2017 Awards – Jaguar Fort Myers
Local auto dealerships are a crucial part of the success of an automobile brand. It is our job as dealers to work hard to ensure that we cultivate a positive and strong customer relationship with our local buyers and customers. At Jaguar & Land Rover of Fort Myers we take that job very seriously and are proud to have received national recognition this year for our hard work and dedication to our loyal customers.
Each Year Automobile dealers in the U.S. are recognized for their proven success and track record of exceptional service and customer dedication by a variety of auto industry organizations and professionals. These rare awards are only handed out to a small percentage of the total dealers nationwide who have excelled in several key core elements of business. Awards are given in areas such as customer service, sales satisfaction, and business excellence. Jaguar of Fort Myers is proud to be recognized by Jaguar, DealerRater, and Land Rover for our sincere work efforts and customer satisfaction and we are excited to share this news with you, our valued customers.
Our team takes pride in providing top quality service and an exceptional customer experience. We know that our customers are truly the most important thing and we strive to be the best we can for them. Jaguar & Land Rover of Fort Myers are thrilled to be named the only multi-brand dealer in Florida to win both the 2017 Jaguar Pride and Land Rover Pinnacle awards. These prestigious awards are given annually to retailers who have demonstrated a commitment to excellence and the Jaguar and Land Rover brands. We are proud to be one of only 16 select retailers who were selected from each brand to receive this honorable award that is based on superior performance. We are also proud to say that this is the 4th year in a row that Jaguar & Land Rover of Fort Myers has won this award for both brands.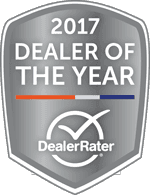 In addition, we want to recognize our team for also being honored with the 2017 DealerRater 'Dealer of the Year' award. DealerRater, the world's leading car dealer review website, awards this prestigious distinction each year to recognize dealerships for outstanding customer service based upon consumer reviews of dealership experiences shared on the DealerRater.com web site. This award is very special to us, because it is awarded based on reviews from our own local customers. We are thrilled to hear your kind words and appreciate your taking the time to comment about the service you received from our team.
Our team at Jaguar & Land Rover of Fort Myers wants to thank our valued customers again for their important feedback and exceptional reviews and want you all to know that whether you are at our dealership to have your car serviced or to purchase a new vehicle, it is truly our pleasure to serve you. We appreciate your business and look forward to helping you any way we can.