Jaguar Fort Myers Proudly Introduces the 2011 Jaguar XJ

Jaguar Fort Myers, in Ft. Myers Florida and Jaguar have just unveiled the new XJ flagship to the public. The 2011 Jaguar XJ which is set to hit U.S. shores this May has Fort Myers and Naples, Florida Jaguar enthusiasts thrilled with its addition to the luxury dealers line-up. For those who want to reserve their Jaguar XJ, Simply complete the contact field to the right of this page or call 866-254-7845.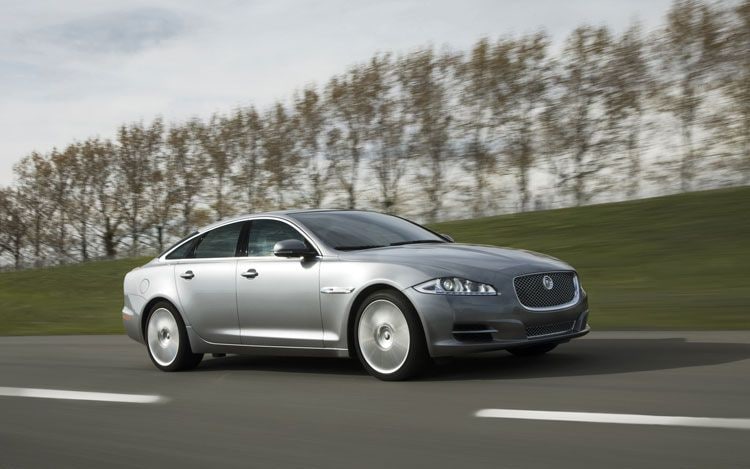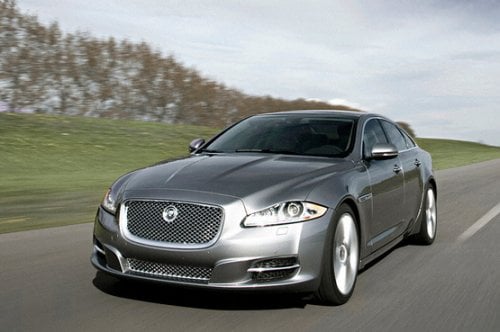 While piano black is almost a cliché on luxury-sedan dashboards, you don't find it outside...until now. The 2011 Jaguar XJ features a piece of the trim on the roof rails connecting the C-pillar to the other edge of the rear quarter-window.
The piano-black trim, which shows up only close up on metallic black or British Racing Green paint, stands out like a piece of protective-trim covering on virtually any other paint color...silver, for example. An overhead view shows how it connects the side glass with the standard panoramic two-panel sunroof.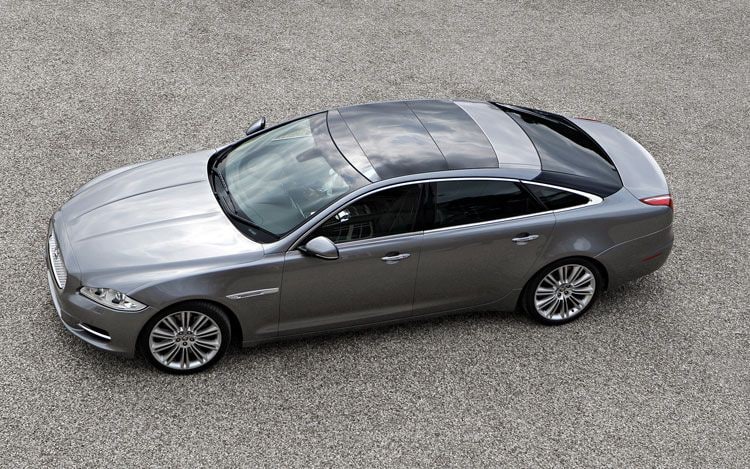 You'll recognize the 2011 Jaguar XJ's nose as a more upright follow-up to last year's sensation, the XF. On the bigger XJ, which is about the same size as the more formal-looking sedan it replaces, the rectangular grille is even more resolved and the cat's-eye headlamps are even sleeker. As with the XF, there's no Leaper hood ornament, though it will be offered in North America, in case you're considering an aftermarket vinyl top as well.
"Surface tension" in the profile pays homage to Chris Bangle's "flame surfacing" as does just about everything new in the car business these days. While the roofline suggests a "four-door coupe" in the idiom of Mercedes' CLS-Class, rear-seat headroom, even with the standard two-panel sunroof, is quite good. The XJ is a bigger car than it looks. Jaguar worked hard on the sedan's aerodynamics, for high-speed stability and low wind noise and fuel efficiency.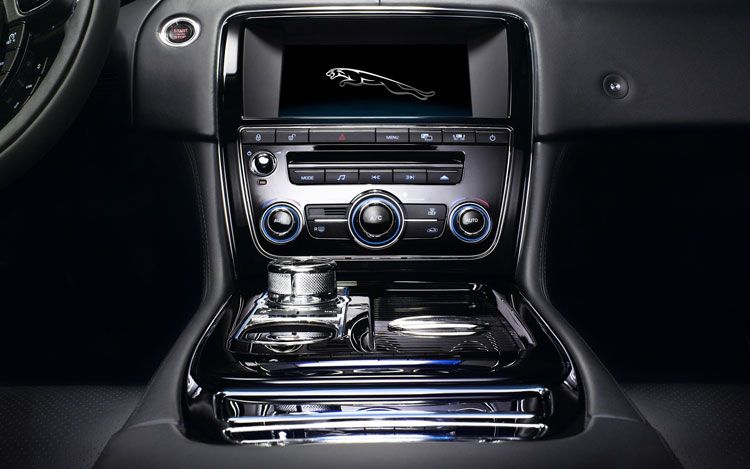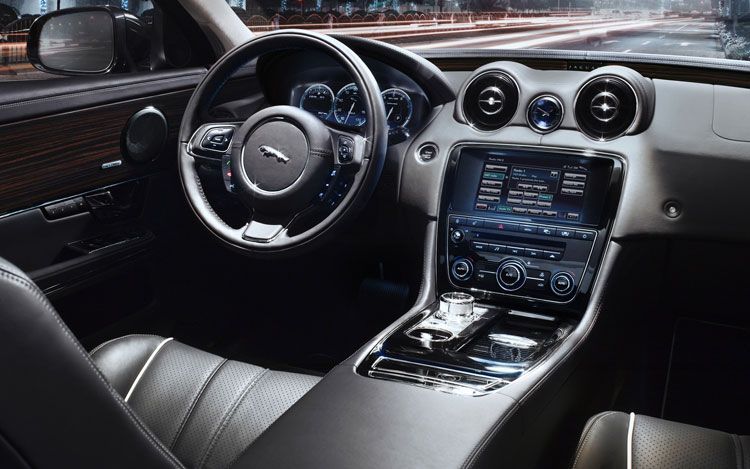 Some of our favorite features include the interior features the XJ's "handshake" gearshift knob, which withdraws out of sight until rendered for use. There's a 3D virtual instrument cluster, an eight-inch high-definition touch screen for navigation, interactive voice control, and a media hub with DVD audio and video with a hard-disc storage system and high-fidelity audio with an optional 1200-watt, 15-channel Bowers & Wilkins amp, 20 B&W speakers, and Dolby Pro Logic II 7.1 Surround-Sound.
A four-zone climate control and heated/cooled seats with massage and adjustable bolsters come standard. The long-wheelbase XJ adds five inches of rear legroom and a rear-seat entertainment system with wireless, digital headphones. There are two Apple iPhone-style infrared wireless remote controls for the rear-seat passengers, as well.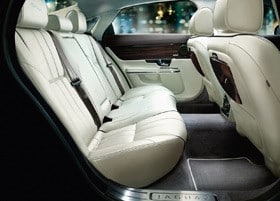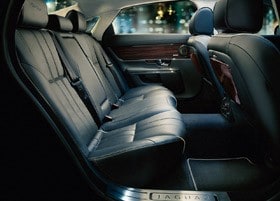 Some of the many safety enhancements for 2011 include the XJ's adaptive seatbelts cinch up under emergency braking, and the belts are tied to the adaptive dynamics and the stability control systems. It's swathed in typically supple Jaguar leather and a wide choice of wood or metal interior trims.
All this is wrapped in a very light, rigid aluminum monocoque bodyshell that makes the standard-wheelbase '10 XJ lighter than the shorter, steel-bodied XF. Body panels consist of up to 50-percent recycled aluminum, and Jaguar has set a goal of 75-percent recycled aluminum. The XJ is up to 570 pounds lighter than its competition, which of course includes the Mercedes-Benz S-Class, and BMW 7 Series.
Xenon headlamps are standard, and all other exterior lighting is LED -- no bulbs. The front lights are adaptive, with optional intelligent high beams.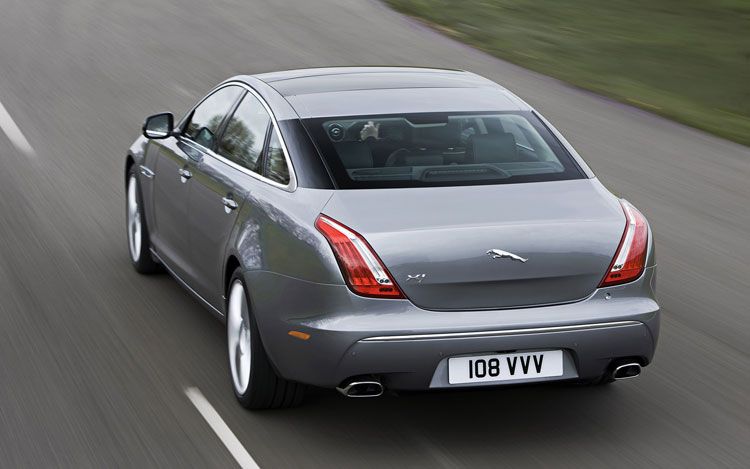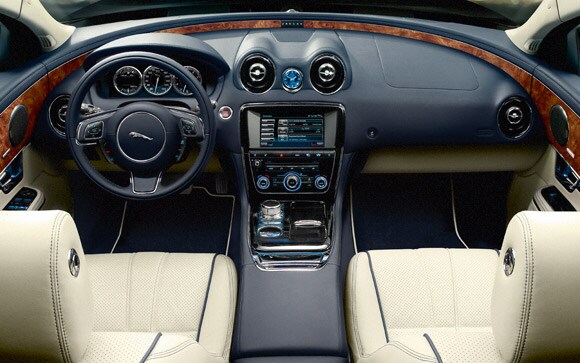 The 5.0-liter, 385-horsepower V-8 is standard, with supercharged 5.0-liter V-8s of 470 horsepower and 510 horsepower optional. Transmission is a six-speed sequential automatic with paddles and adaptive shifting. Rear air suspension is standard, and Jaguar's CATS adaptive dynamic suspension is available.